Regular price
$269.99 USD
Regular price
Sale price
$269.99 USD
Unit price
per
Sale
Sold out
This +16 months cured Bone In Serrano ham is the perfect addition to a Spanish-inspired tapas cheese plate! 
Why bone in?  Firstly, the bone helps to preserve the flavor and texture of the meat by preventing excessive moisture loss. Secondly, the bone can be used to create a delicious broth or stock that can be used in soups or stews. Finally, gnawing on the bone can be a satisfying and enjoyable experience for those who appreciate the rich and complex flavors of this cured Spanish delicacy.
Always serve at room temperature to allow the rich fat to dissolve on the palate.
Crafted from superior white pigs, this 100% natural product undergoes a traditional family process that ensures an exceptional end result. Cured for a period of up to 20 months, it is certified with the ETG guarantee for Traditional Elaboration Process, ensuring that each piece is one-of-a-kind.
INGREDIENTS

98% White Pork Ham
2% Mediterranean Sea Salt.
ALL NATURAL

Made from the best white pigs, a 100% natural product free from nitrates, nitrites, color additives, preservatives, and GMOs. Minimally processed, gluten-free and lactose-free.
FLAVOR

Serrano ham goes through a minimum of 16 months of curing process, yielding a premium product with precisely balanced salt and a rich Mediterranean fragrance, along with a succulent and bold taste

With its rich and complex flavor profile, our Serrano ham has a slightly sweet and nutty taste, with a firm yet tender texture that melts in your mouth.
ORIGIN & TRADITION

ORIGIN: SPAIN

Redondo Iglesias Serrano Ham undergoes a natural drying process in the crisp mountain air for over sixteen months. During this unique process, each ham can lose up to 40% of its weight in fat, allowing for the development of a diverse range of complex flavors.

Serrano comes from the word "sierra" that means mountain in Spanish. Spain is the second most mountainous European country after Switzerland, and so Serrano Ham is produced all over the country.
SUGGESTIONS

Serve it at room temperature (to allow the rich fat to dissolve on the palate).

Serrano ham is a delicious and versatile ingredient that can be enjoyed in many different ways:

As a tapa: Serrano ham is often served as a tapa in Spain. Simply serve thin slices of ham on a plate with a drizzle of olive oil and a sprinkle of sea salt.
On a sandwich: Add slices of serrano ham to your favorite sandwich for a flavorful and protein-packed addition.
Wrapped around fruit: Serrano ham pairs well with sweet and juicy fruits like melon or figs. Wrap a slice of ham around a piece of fruit for a tasty and elegant appetizer.
With cheese: Serrano ham and cheese are a classic pairing. Serve sliced ham with your favorite cheese and some crusty bread for a simple yet satisfying snack or light meal.
Cooked in a dish: Serrano ham adds depth of flavor to many dishes, such as soups, stews, and omelets. Try adding diced ham to your next batch of lentil soup or Spanish tortilla.
In a salad: Serrano ham adds a salty and savory note to any salad. Try it in a classic Spanish salad with lettuce, tomatoes, olives, and a sherry vinaigrette.
View full details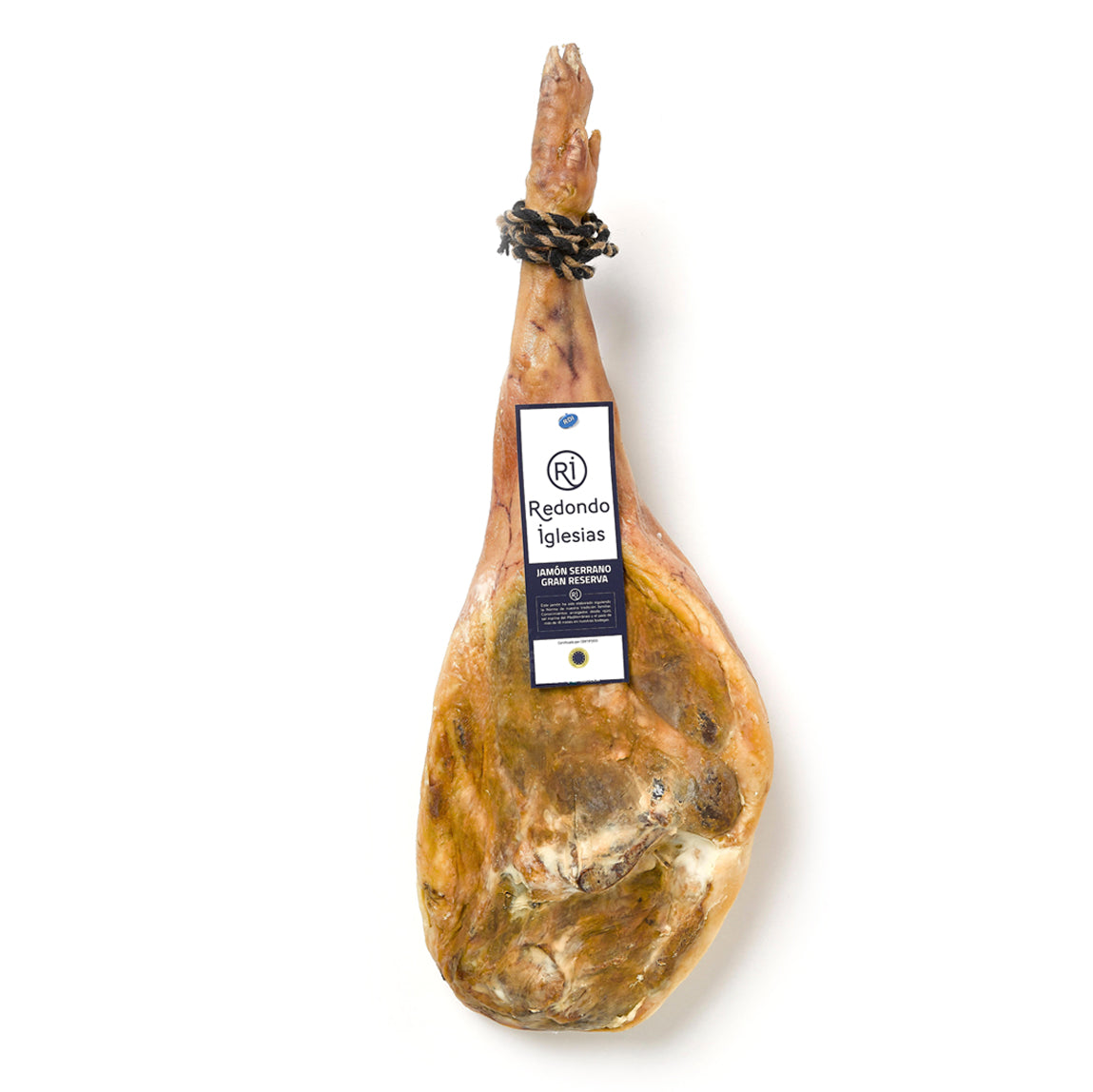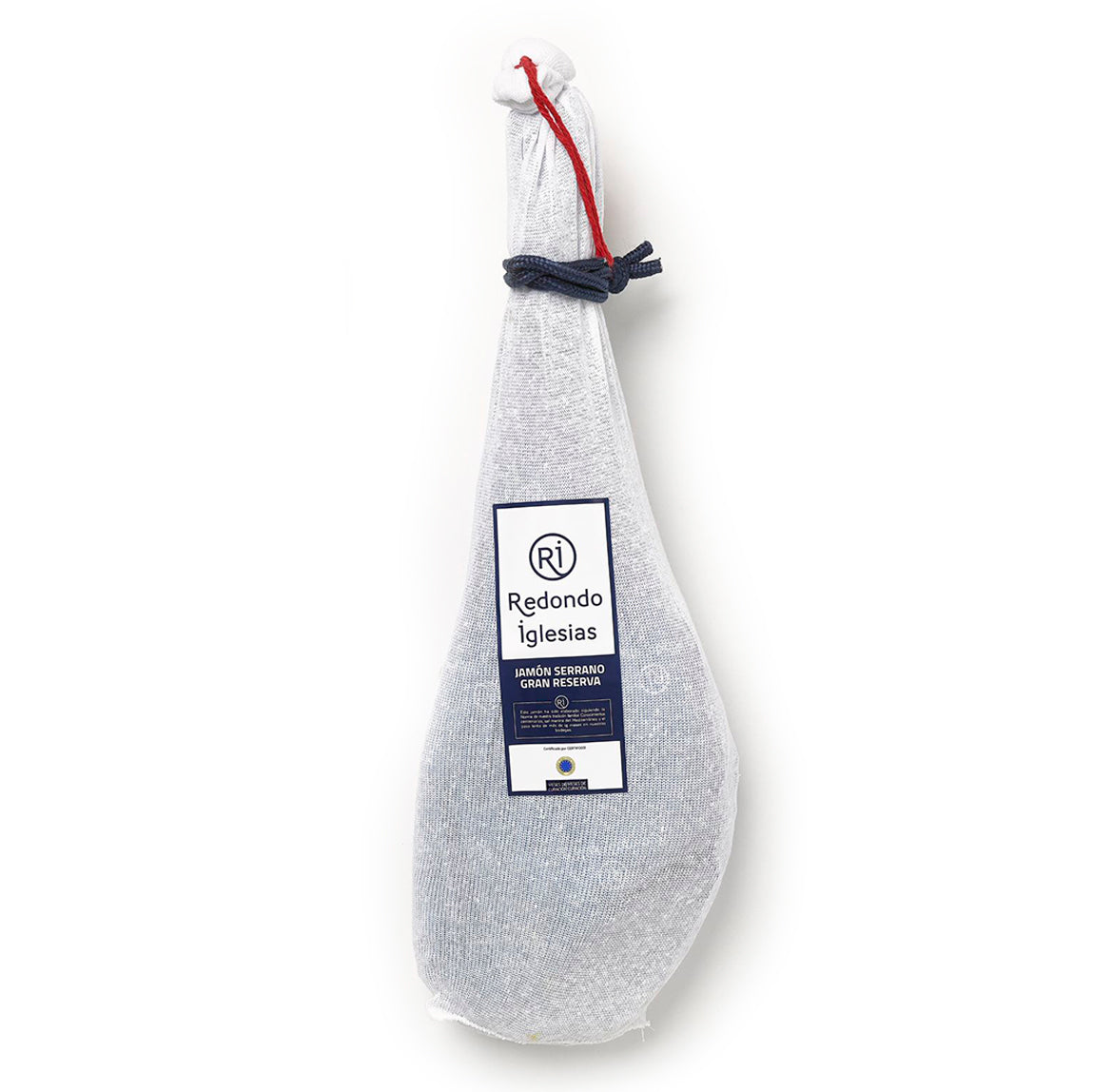 BENEFITS
Convenient and Ready-to-Eat

Buying Sliced Serrano ham offers a convenient way to enjoy this delicious delicacy without the need for special equipment or expertise. It is ready-to-eat and can be enjoyed straight out of the package, making it a quick and easy snack or meal option

Rich and Savory Flavor

Serrano ham has a unique, rich, and savory flavor that is sure to tantalize your taste buds. The curing process and seasoning of the ham results in a depth of flavor that is unmatched by other cured meats

Versatility

Sliced Serrano ham can be used in a variety of ways, making it a versatile ingredient in your kitchen. It can be enjoyed on its own as a snack, used in sandwiches, or added to charcuterie boards and salads for a delicious burst of flavor.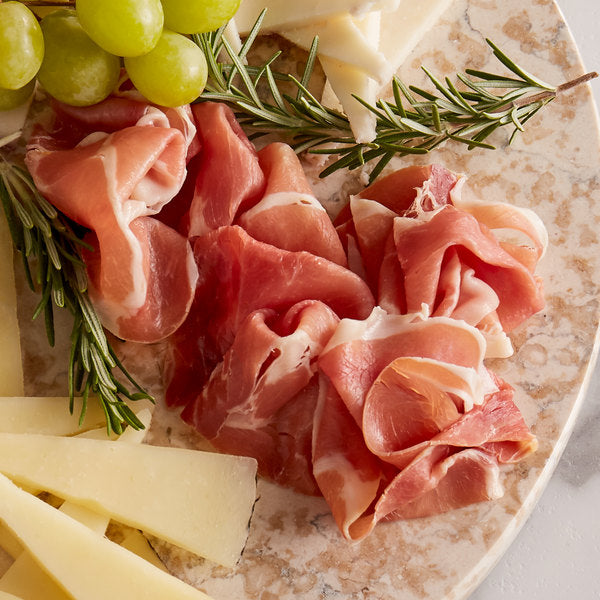 Tradition and Culture
Serrano and Ibérico ham is deeply rooted in Spanish culture and tradition. It has been a staple food in Spain for centuries and is an important part of the country's culinary heritage.
LEARN MORE